1
Thumbnail
Thumbnail
Detail, List
1
Name...
/products/
Aerospace Modules/Manifolds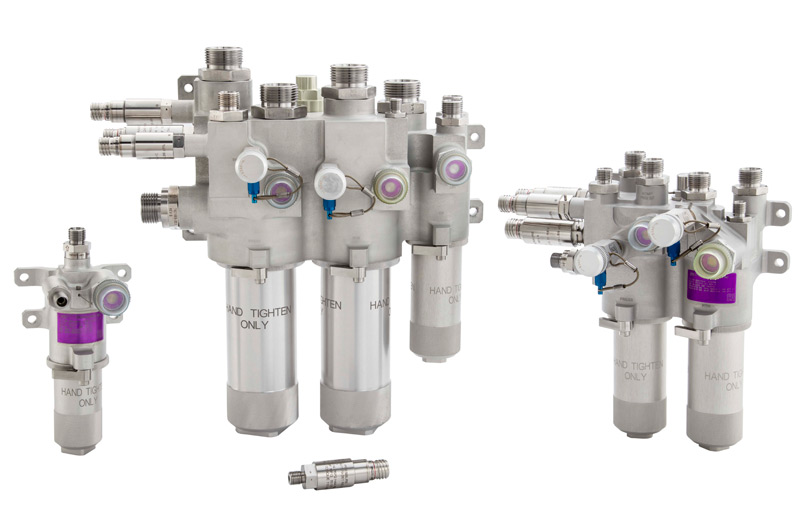 Embraer E-Jets E2 Hydraulic Filter Manifolds
PTI's custom designed filter manifolds integrate independent fluid system into one compact and efficient manifold providing greater reliability and improved maintainability while optimizing weight and mission performance. International customers have selected PTI as their source for filtration and fluid control products.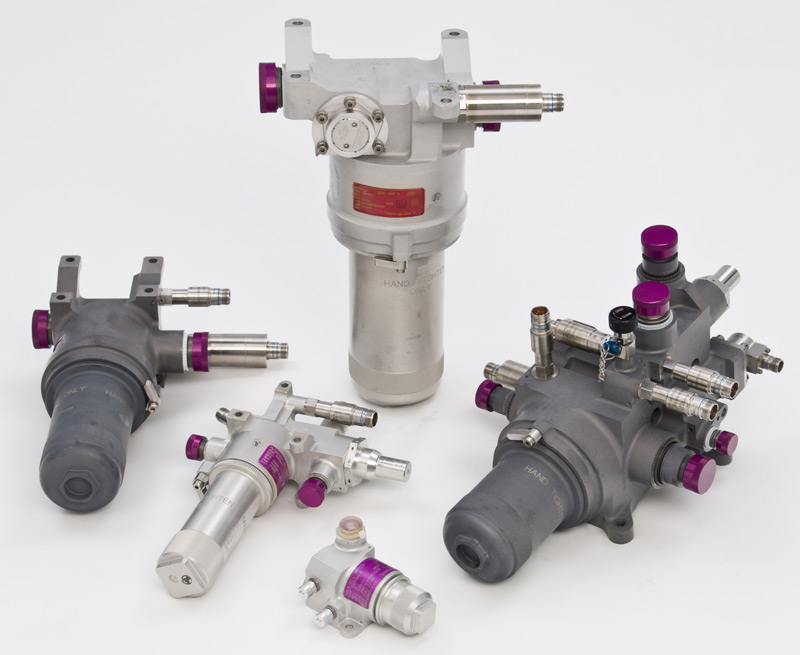 Airbus A350 Hydraulic Filter Manifolds
PTI Technologies engineers reliable, high-performance and fully integrated filtration solutions for aircraft fluid systems. PTI's complex filtration and fluid control manifolds ensure maximum protection and efficiency against contaminants in systems with operating pressures up to 5,000 PSI. Technical innovation enhanced by our customer focus has made PTI a trusted partner in the aerospace market.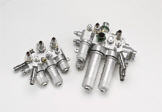 Dassault Falcon 7X Hydraulic Filter Modules
PTI has a extensive pedigree in commercial and military aviation, but we also produce products for business jets and regional aircraft. The hydraulic filter modules for the Falcon 7X are examples of complex multi-component modules and incorporate the following components:
Pressure, case drain and return filter elements
Relief, bypass and check valves
Pressure switches, pressure transducers
Electrical / visual delta-P indicators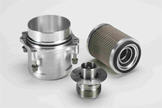 Joint Strike Fighter F-135 Engine Lube Filter Sub-Assembly
In addition to multi-component modules, PTI also designs and manufacturers filter sub-assemblies for direct integration into engine, gearbox or pump housings. The engine lube filter sub-assembly for the JSF F-135 engine consists of a filter bowl, filter element and a combination valve assembly with by-pass, shut-off and reverse flow functions.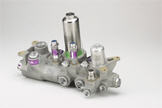 Boeing 767 EDP/ADP Pump Module
PTI Technologies designs and produces many of the hydraulic filtration components on Boeing's family of aircraft. Our product content ranges from individual filter elements to complete integrated hydraulic system modules like the Boeing 767 Engine Driven Pump / Air Driven Pump Module.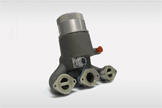 Boeing 787 Liquid Cooling System PECS Module
PTI Technologies designs and produces many of the Hydraulic Filtration Applications on Boeing's family of Aircraft. Our product content on each of these applications ranges from providing individual filter elements to complete, integrated system manifolds.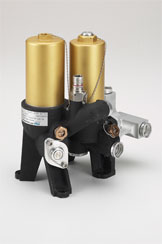 Rolls-Royce RR 250 CEFA Combined Fuel/Lube Filter Manifold
PTI has developed a number of innovative filter designs and aviation firsts. The RR 250 Combined Engine Fuel Assembly filter module is a unique design which incorporates engine lube and fuel filters in the same module. This design provides significant weight savings and a smaller space claim as well as the added benefit of cooling the lube oil via thermal transfer with the relatively cool fuel.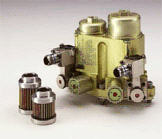 EFA2000 Eurofighter EJ200 Engine Lube Filter Module
PTI's multi-component modules combine a number of functions into a compact package. The EJ 200 engine lube oil filter module for the Eurofighter incorporates both pressure and return lube oil filtration as well as bypass valves and electrical / visual indicators.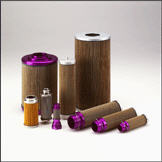 Hydraulic Systems
PTI Technologies designs and produces a wide range of hydraulic filter elements used in today's commercial and military aircraft and ground support systems. Filter elements comprised of depth-type filtration media combine high efficiency particle removal while optimizing contamination capacity. Operating environments include pressures up to 5,000 psid and temperatures ranging from -65°F to 350°F.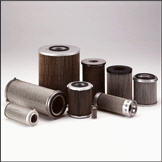 Engine Fuel, Lubrication and Pneumatic Systems
PTI provides filtration solutions for engine applications ranging from the PT6 to the PW4000 series engines. Applications include fuel, lubrication and pneumatic systems. Filter elements of the constructed of depth-type filtration media or woven wire mesh are offered in both disposable and cleanable configurations.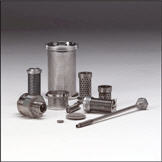 Screen and Strainer
In addition to pleated filter elements, PTI provides screen, strainer and metal edge type filter elements for use in last chance, fuel wash flow, scavenge lube oil and other systems requiring protection for downstream components.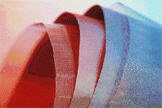 421® Robust Metal Fiber Media
Drawing on our longstanding experience in the design, and production of metal fiber media filter elements, PTI has led development of improved hydraulic system filter elements for the US Army. Early tests have shown a significant improvement in system cleanliness, on stream life and resistance to cyclic flow contaminant migration.

7587717 Low Pressure Delta P Indicator with Rolling Diaphragm
This rolling diaphragm indicator detects differential pressures as low as 5 psid +/- 0.5 psid up to 15 psid +/- 1.5 psid while maintaining a size compact enough to be mounted in a SAE-AS33514-8 port. High pressure sensing port is located radially on the OD just below the .750-16 UNJF mounting threads with the low pressure sensing port opposite and along the axis of the signal button. Signal: Visual. Reset: Manual.

7593160 Electrical and Visual Delta P Indicator
Electrical and visual design couples MIL-S-8805 microswitch to the magnetic pop-out button. The mechanical motion of the pop-out button drives the snap acting SPDT microswitch. The switch can be wired for normally open or normally closed circuits. Hermetically sealed, gold contact switches recommended for all high temperature (to 500ºF) or low load applications (6 Volt, 0.010 amp circuit). Many mounting configurations and electrical connectors are available, or can be built to customer specification. Signal: Electrical and Visual. Reset: Manual (Automatic reset also available).

7593485 Delta P Indicator with Bypass
This indicator has a high pressure sensing port located at the bottom of the indicator, opposite and along the axis of the signal button. The low pressure sensing port is located radially. Signal: Visual. Reset: Manual.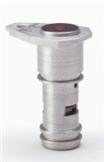 7563890 Delta P Indicator with Axial High Pressure Port
Compact design provides a visual pop-out button signaling impending bypass. With the application of additional pressure, the indicator cracks to permit bypass. The standard unit designed for use with a 0-12 GPM flow rate, 50 psid +/- 5 psid actuation, 60 psid +/- 10 psid cracks with a 10 psid minimum between actuation and crack. High pressure sensing port is located at the bottom of the indicator, opposite and along the axis of the signal button. The low pressure sensing port and bypass openings are located. Signal and bypass functions are accomplished in a very small, lightweight package. The overall length of the indicator with bypass is 1.800″ with a 0.743″ OD. Signal: Visual. Reset: Manual.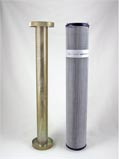 Interchange
PTI provides high performance filtration products for high, medium and low pressure hydraulic applications as well as lubrication systems with inline, duplex, intank, inverse-T and spin-on filter assemblies.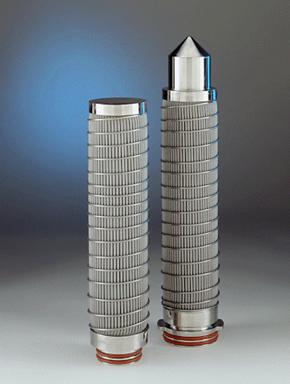 421 Elements
421 Soft Sintered 421®
PTI Technologies metal filter elements begin with our proprietary 421-brand random fiber depth media. PTI's 421 media is made from very small fibers, which are annealed and compressed to exacting specifications. The media is available in 316L stainless steel, and also other specialty alloys, such as Hastelloy R.
Because we make 421 ourselves, we don't have to rely on "off-the-shelf" media to solve our customer's problems. Instead, we are able to match our customer's needs to very specific filtration solutions. Many times, we will create a custom media for a given customer application.